Last weekend I was in Michigan visiting my family and I attended my Aunt Gert's 40th birthday party at The Royce, a wine bar in Detroit. It was so much fun! The theme was The Great Gatsby, which is actually my favorite work of fiction of all time. I've always wanted to go to a 1920s themed party, but the couple I've been invited to something always got in the way. It was so nice being able to spend time with my dad's side of the family. People from all over the country flew in for my aunt's big day. Not only was the entire place rented out for our private party, but my aunt also did three gorgeous outfit changes! It was over-the-top and extra af, but it was a night of fun memories for my family. And we all know that when I have my next milestone birthday, I'll be extra af too! (Does 25 count as a milestone?)
What I Wore: I wore a black fringe dress from FashionNova. I paired it with black fishnets and some little black heels from my mom's closet. The feather headband, pearl necklace, gloves, bracelets, and cigarette holder all came from Amazon. This whole look was under $50! And the red lipstick I wore lasted all night long! It's the Fenty Beauty Stunna Lip Paint.
The Location: The Royce was perfect for a 1920s party! It had a huge wall of wine bottles, a cute upstairs area with a balcony, a space for dancing, room for the delicious catering, and the bartenders even dressed up for the theme! The atmosphere was definitely on point and the open bar selection was great as well.
Highlights: Although the drinks, dancing, and dressing up were all wonderful, the best part hands down was having my family together. My dad, my aunts, uncle, grandma, and cousin — all people that I'm very close to, but never get to see! It was the best! ❤
"A little party never killed nobody."
—The Great Gatsby by F. Scott Fitzgerald
 "Gatsby believed in the green light, the orgastic future that year by year recedes before us. It eluded us then, but that's no matter — tomorrow we will run faster, stretch out our arms farther … And one fine morning — So we beat on, boats against the current, borne back ceaselessly into the past."
—The Great Gatsby by F. Scott Fitzgerald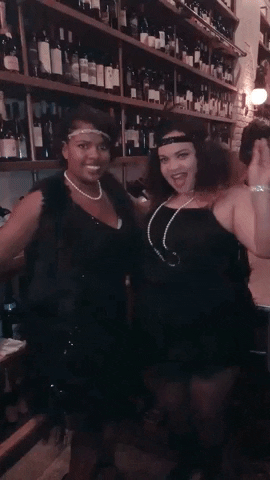 xoxo, Kayla